| Products
|VMC
|

GHOST - Decentralized heat recovery unit
GHOST
Decentralized heat recovery unit
FEATURES
Motor housing placed inside the wall behind the heat exchanger to make the product highly silent (only 160).
High efficiency heat exchanger (up to 93%) made of ceramic material.
Made of long life, high quality finest materials, with elegant design.
Front cover in ABS.
Tilting opening system of the front panel to prevent ingress of air when the fan is OFF.
External grille made of ABS specifically designed to reduce the outside noise.
Standard duct lenght 500mm. 700mm lenght available on request
250mm minimum wall depth for 160 and 200mm for 100 - 3mt maximum wall depth (2,5mt in case of 90° curve)
DC ball bearing motorimpeller, brushless with electronic commutation.
Long life and low energy consumption.
Easy cleaning and maintenance.
Double dust filter, washable and easy to access
IPX4 protection degree.
Led indicator for functions and filter cleaning.
Humidity and twilight sensors (active and wireless versions)
The last set function is saved and automatically restored in case of interruption of the power supply.
Caps for pipe in case of future installation in the construction site.
No condensation drainage required
Working Temperature Range: - 30°C + 50°C
POSITIONING and ASSEMBLY
Ghost has been projected to be installed in the main premises of the house (living room, bedroom, ...). Base version can be installed as one unit even if the highest efficiency can be reached by installing two units. By selecting Active and/or Wireless versions in fact, thanks to the technology of synchronization, two or more products communicating each others can be installed.
CLICK
HERE
to see the video of the assembly
OPTIONAL
Filter kit ISO COARSE 45% (only 160)
ISO COARSE 45% filter, in comparison to the standard dust filters, allows a more efficient filtration of particles with the diameter superior to 10um (like hair, pollen, sand, generic dust)
Sound absorbing foam
The sound absorbing foam allows to reduce the noise coming from the outside when the product is turned off.
FURTHER INFORMATION
Ghost available versions:
BASE version's main technical features:
ON/OFF and 2 speed switch, possible to control by remote (wall switch not supplied).

ACTIVE version's main technical features:
Wire
connection between the units:
Remote control with display (accessory sold separately)
Integrated humidity and twilight sensors which allow several automatic functioning modes (see remote control)
Up to 16 units communicating in sequence in the same system in master/slave mode, through easy dip switches configuration
3 adjustable speeds (plus night version)
WIRELESS version's main technical features:
Wireless
connection between the units:
Remote control with display (accessory sold separately)
Integrated humidity and twilight sensors which allow several automatic functioning modes (see remote control)
Up to 16 units communicating in sequence in the same system in master/slave mode, through easy dip switches configuration
3 adjustable speeds (plus night version)
CONTROL INSTRUMENTS (necessary for Active and Wireless versions, one for each system, to run all functions)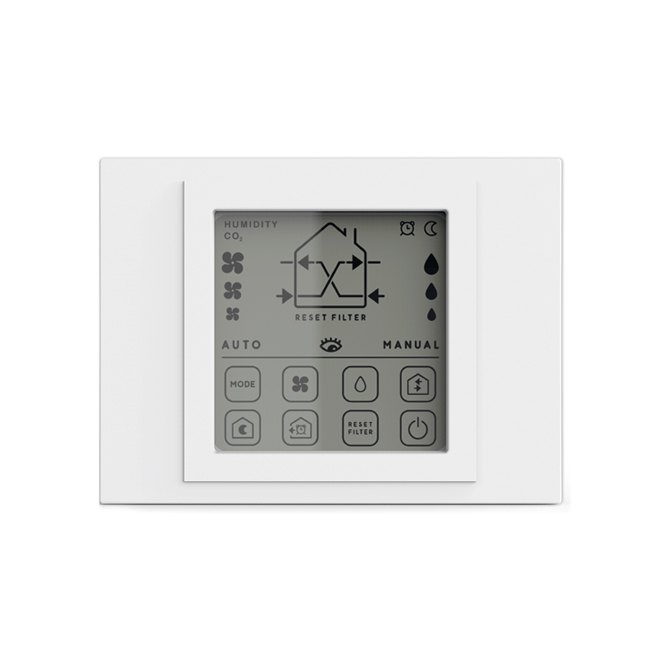 DIMENSIONS
Product versions
Slide the table to the right
| Model | Code | Ø hole (mm) | Voltage (V) | Frequency (Hz) | Flow rate (m³/h) | Max. Press. (mm H₂O) | Max. Press. (Pa) | Power (W) | Noisiness dB(A)3m | Weight (Kg) |
| --- | --- | --- | --- | --- | --- | --- | --- | --- | --- | --- |
| Model | Code | Ø hole (mm) | Voltage (V) | Frequency (Hz) | Flow rate (m³/h) | Max. Press. (mm H₂O) | Max. Press. (Pa) | Power (W) | Noisiness dB(A)3m | Weight (Kg) |
| GHOST 160 BASE | 0010530 | 160 | 220-240 | 50 | 60 | 5,5 | 54 | 6,7 | 30 | 4,9 |
| GHOST 160 ACTIVE | 0010540 | 160 | 220-240 | 50 | 60 | 5,5 | 54 | 6,7 | 30 | 4,9 |
| GHOST 160 WIRELESS | 0010550 | 160 | 220-240 | 50 | 60 | 5,5 | 54 | 6,7 | 30 | 4,9 |
| GHOST 100 BASE | 0010500 | 100 | 220-240 | 50 | 30 | 7,3 | 72 | 6,9 | 37 | 3,5 |
| GHOST 100 ACTIVE | 0010510 | 100 | 220-240 | 50 | 30 | 7,3 | 72 | 6,9 | 37 | 3,5 |
| GHOST 100 WIRELESS | 0010520 | 100 | 220-240 | 50 | 30 | 7,3 | 72 | 6,9 | 37 | 3,5 |
Further information about the product: Decentralized heat recovery unit - GHOST